Our intention is to provide certified divers with a unique adventure trip, an exciting and unforgettable experience! We are the only Dive Center that is visiting all the fascinating dive sites Rethymno has to offer. Book with us a unique adventure and enjoy warm clear waters that can exceed 30 meters visibility.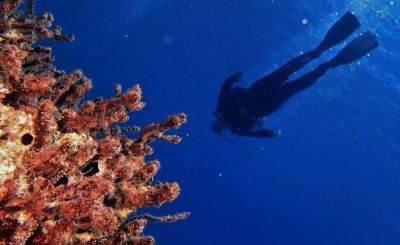 We deliver world-famous Greek hospitality to divers from all across the globe. Whether you're a diving veteran or a thrill-seeking new starter, we offer a professional, multilingual service that will show you the very best of Crete's underwater beauty and its dive sites.
Our goal is to reveal the excitement and adventures of the underwater world and to provide you with high quality dives, in the same way that we would like to experience them ourselves.
Discover an array of spectacular dive sites such as the stunning & unique elephant cave, Skinaria, Damnoni etc, clear waters that exceed 30 meters visibility, dramatic formations of the boulders, simply an amazing terrain for a relaxing dive…
Each trip leads to a hidden world strewn with fascinating sea life and beautiful underworld treasures. Evelin Dive Center has chosen out the best dive sites dotted around Rethymnon & Georgioupolis.
As our dive sites are situated along the north and south coast of the island, you get the opportunity to discover the contrasting sea life and oceanography of both, the Aegean sea and Libyan sea.
We offer 2 dives daily. On all your dives you will be escorted by qualified DiveMasters or Instructors.
Check out our Dive Spots and feel free to contact us for questions or advice.